Log in or register to follow or vote for this project.
Exponential Education uses local high school students to teach younger, junior high school students in order to help them pass their exit exams. In return, the high school students earn scholarships for college.
Exponential Education improves access to quality education and provides academic opportunities worldwide.
Note: As you read this summary, over 150 Ghanaian students that used to be at-risk of dropping out of school or failing school entrance exams are now studying, teaching and receiving free tutoring and scholarships this week in order to build themselves a better future.
The Problem: In Ghana, over 60% of Junior High School students are unable to pass the High School entrance exam. That means these kids are unable to receive any further education. Those that do pass often have to drop out of High School prematurely because of their inability to afford their high school fees ($15 USD per trimester). If they do graduate, most students can't possibly afford to continue onto University. We now know that education does not just affect those who receive it; it also ripples out to affect an entire community. Reports from the World Bank, USAID, the UN, and many educational institutions show that education, especially the education of women, is one of the fastest ways to increase family GDP, reduce the infant mortality rate, increase family health spending and assure the education of the next generation of children. In other words, everyone in Ghana benefits when more children stay in school.
Exponential Education encompasses multiple education related programs, but is largely focused on a peer-on-peer tutorial program that has found a way to help all three levels of schoolchildren success and advance their education. We do this by helping the students help each other. We take five High School students and give them a small unconditional cash transfer that can be used to cover any expenses that may act as barriers to access of schooling. In return, they each tutor five Junior High School students in basic math and English. That means, five High School students are providing free tutoring to twenty five Junior High School students, which leads to more Junior High students passing the High School entrance exam. At the end of ten weeks, the most accomplished High School student tutor receives a conditional cash transfer (normally in the form of a scholarship) used to further their academic opportunities and to attend higher educational institutions. Thus, we bridge the gap - getting more Junior High Students into High School, helping more High School students stay in school, and helping more talented students attend college.
To date, Exponential Education has worked with over 30 schools throughout the eastern and central regions of Ghana, the capital of India and the northern regions of Sudan. The program has now given over 30 college scholarships, provided over 125 high school students with tuition assistance, and given free tutoring in math and English to over 750 junior high students.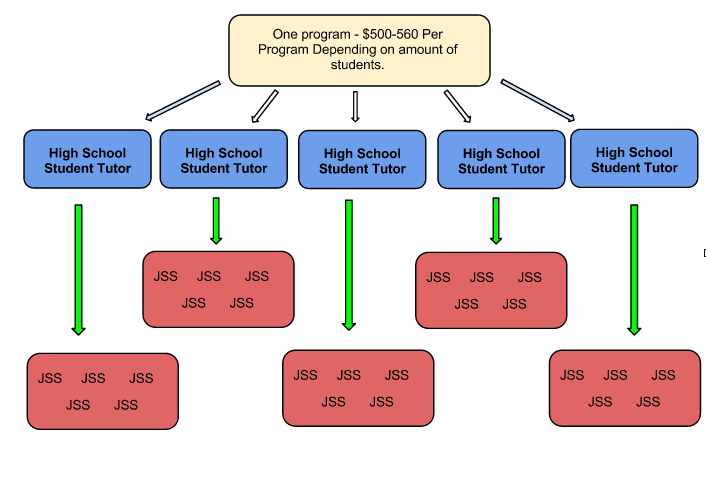 Our first guaranteed impact is improving students' level of basic education. We provide junior high students' with free tutoring that builds better math and English foundations in order to help them pass their junior high exit exam. Exponential Education selects high-achieving high school students and matches them with five struggling junior high students. The high school students teach math and English, but also act as role models and mentors to their younger peers. The children not only gain a better mastery of math and English, but learn about community spirit, how to think outside the box, and help them begin to think critically. With the development of solid life skills, students' math and English scores improve over 200% on average during the ten week process. Exponential Education's first goal is to give a head start to these children, and provide the base for a better future – not only for the students, but for their communities.
The second guaranteed impact is that we ensure that more high school students are able to stay in school. After a child passes the exit exam, and continues to high school, the obstacles do not disappear. School fees often cause high school students to dropout prematurely. In exchange for their tutoring, Exponential Education provides high school students stipends that can be used to pay for their school fees. 5 high school students per program can earn up to $6USD per week. After ten weeks, the stipend, equivalent to over a year of their high school tuition, ensures that students are able to stay enrolled in high school.
The third guaranteed impact is helping high school students continue their education for a chance at a brighter future. We offer 1 out of 5 students a scholarship equivalent to almost a full year of University tuition and can be used for furthering their academic career. The scholarship winners are chosen at the discretion of the program manager running the program (who can witness qualitative measures such as general attitude and effort) and use a fixed criteria rubric to select the scholarship winner. The rubric includes but is not limited to; their attendance, tardiness, if they came prepared to tutor with lesson plans, if they followed our instructions, preparedness to lead games and activities for the children, and the progress of their specific students.
After a scholarship winner is chosen, the winning student is able to wait to claim their scholarship for up to four years. Once claimed, the scholarship check is written only after detailed correspondence with the student about where the funds would go and to what institution. Afterwards, the check is printed by the bank and written directly to the educational institution desired in order to provide accountability of funds.
The last and perhaps most important impact of Exponential Education are the immeasurable ripples of change, empowerment and growth within a community. These gains include high school students developing leadership skills, gaining teaching experience, and becoming empowered to change their community. Junior high students are able to connect to a relatable community mentor. They develop critical problem solving skills and start to believe they can change their own path and the direction of their community. The community itself will be able to produce more junior high and high school graduates, and with a focus on women, eventually communities will benefit from lower death rates, higher literacy rates, higher health spending per family, and a higher general quality of life in the long run.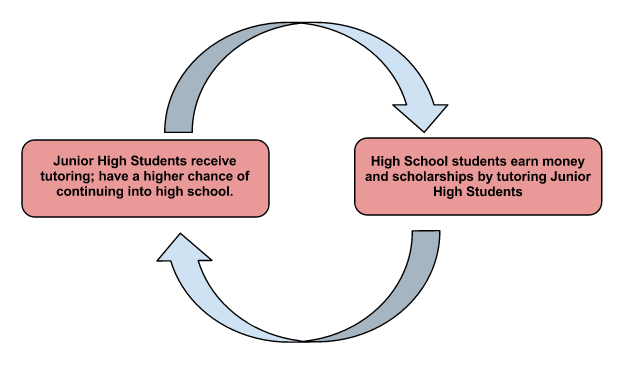 Currently, Exponential Education works in over twenty locations throughout Ghana, serving over 900 children.
The scalability of the program is contingent upon the low cost; only $500 USD*. Only $500 USD provides one High School student a full scholarship for higher education, four High School students the ability to stay enrolled in High School, and twenty five Junior High School students with free tutoring by older peers in their local area who understand their culture, community and educational needs.
The sustainability of the program is boosted by our new social venture: Expo Tutoring Services - a for-profit tutoring center that feeds all revenue and profits into Exponential Education programs. Expo Tutoring Services uses volunteers who manage Exponential Education programs to tutor young, middle class Ghanaian students, who want to study abroad. Our volunteers are trained and provided with ample resources to provide SAT tutoring and preparation (including registration), College advising and application assistance.
Our courses are provided at a lower price than leading SAT tutoring organizations in order to attract students who normally cannot afford SAT tutoring, but still can manage some expenses if accepted into University abroad. For approximately $150, we give students a comprehensive 12 week course which includes all materials, SAT preparation, and also edits and completes college and scholarship applications with students to 3 colleges of their choice. The low-profit tutoring organization remains a non-profit entity, and all profits of the organization feed into Exponential Education program expenses. Expo Tutoring Services provides 12 week courses 4 times a year and serves between 30-40 students per term. Since the staff is comprised of volunteers, our overhead costs are able to remain low with relatively high profit margins for future investments and funding for both Expo Tutoring Services and Exponential Education. Each Expo Tutoring Service term normally corresponds with 4 Exponential Education programs, and the expansion of our tutoring services can lead to successful more sustainable Exponential Education programs.
Exponential Education also engages in other education projects like teacher training workshops in partnership with the Ghanaian National Service and Ghana Education Service, along with student leadership workshops throughout our host villages.
With proper investment, Exponential Education plans to expand its tutoring services and programs with Kumasi and Accra within the next year. With minimal investment, Exponential Education can become a sustainable organization serving over 1500 children per year in scholarships, cash transfers and free tutoring, and 800 students a year in the SAT and College Advising social venture by January, 2015. Investment will allow Exponential Education to constantly withstand and earn income for further future expansion. This includes our 2 year goals to expand to two other cities in Ghana (Cape Coast and Tamale), sustainably serving over 4600 students by January 2016, and in 4 years to expand to neighboring English speaking countries by January 2018. With our model and initial investment, our program will be completely sustained and able to invest in more Exponential Education programs, future initiatives, staff, locations, further fundraising and overhead costs.
Support Your Idea Optional
(5 - 7 minutes for three uploads)
Roadmap to Success Optional
(1 - 3 minutes to upload)
Sponsors, Investors, and Supporters
The Ghana Peace Corps supports Exponential Education by recruiting Peace Corps volunteers to run our programs throughout their host villages.
The Ghana National Service provides teachers to work with our organization part time, and supports our teacher training initiatives.
Ghana Ministry of Education
The Ghana Ministry of Education Kumasi and Accra offices offer assistance and support by providing host contacts, permission letters and target schools in need,
Walter Claudio Hair Salon volunteered their time to give hair cuts in exchange for donations. Their kind work helped us raise over $3000.
PAD Associates is our Ghanaian partner, which uses our Exponential Education system as their educational platform within their Accra programs.
Pintheworld will be the first ever platform to connect, rate, review and search for non-profits internationally.
Educate Girls Globally is a non-profit organization that has employed education interventions in Rajasthan, India. The organization works alongside the government and has affected the lives of over 500,000 children.
FIVE PROJECT QUESTIONS Required
(60 - 90 minutes)
1. What is your innovation?
Our innovation is a unique system that tackles three primary global education issues by empowering ambitious high school students and enabling them as role models to younger students in their community. In exchange for teaching and mentoring 5 junior high school students, older students receive tuition assistance to stay enrolled in high school and scholarships to continue their education. Our system is easy, replicable worldwide and can drive sustainable and positive change everywhere!
2. Who gains the most?
The entire community! Junior high students receive role models, mentors, free tutoring, snacks and materials. High school students gain leadership skills, tuition assistance and scholarships* to further their academic goals. The ripple effects of our program are also felt throughout the community. Teachers feel supported, families are proud of their children and all members benefit from the indirect gains of increased education; better health, literacy rates and higher quality of life for all.
3. Who pays?
Our organization is sustained by Expo Tutoring Services, individual donors, fundraising events, grant opportunities, eco-tourism and matching funds. Volunteers fund-raise to establish their own educational platform through the support of our model, system and resources, while staff continue to volunteer at the Expo Tutoring Center to increase revenue and maintain Exponential Education programs. Exponential Education also applies for grants and holds various quarterly fundraising drives.
4. What is your success?
The success lies in our model –it is truly exponential and it works! The benefits of the student-mentor relationships do much more than simply improve grades; they boost self-esteem, encourage higher education, engage young students and provide opportunity for further education. Our model also benefits entire communities by increasing the quality of life for all members through the extrinsic benefits of increased education. Our model is replicable, inspiring and cost effective.
5. How will you do it?
First, we partner with the ministries of education who target their lowest performing schools and provide us with initial contact. We then bring volunteers, staff and community members together to implement programs under our oversight, training and supervision. Our partnership with Peace Corps provides us with volunteers that match our funds and run programs under our supervision within their own communities. Our tool kit allows educators worldwide to adapt and run our program in any community.